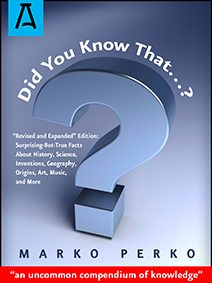 Did You Know That…? The "Revised and Expanded" Edition is an uncommon compendium of knowledge that picks up where the original book left off...with surprising-but-true facts about history, science, inventions, geography, origins, art, music, and more...all the while presenting updated and new facts. The book Did You Know That…? now in its third edition, will undoubtedly inform and entertain as it has for some two decades.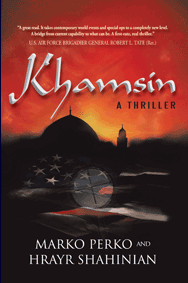 Dr. Alexander Hakimian's life is idyllic by any measure. Alec is a world-renowned brain surgeon, married to an intelligent and beautiful wife, and the father of a young, precocious daughter. But his life is profoundly transformed in a nanosecond when he receives a phone call from the director of the National Security Agency. The NSA has come calling for Alec because, as a former CIA deep non-official cover, or NOC, he possesses a unique skill set.
The war on terror is threatening the lives of every American. Armed with a top-secret Executive Order from the president, Alec is tasked with ridding the world of one of the most dangerous terrorist organizations and its maniacal leader.
Alec leads Operation Star 9, a clandestine black operations unit specifically assembled for the daunting task. They cross the great expanses of the Middle East in a relentless search for the Khamsin terrorist organization, named for the ferocious desert wind that blows across the region. It is led by the elusive al-Ankabut, or Spider, who weaves a web of death and destruction unparalleled in modern history, with worldwide Islamic hegemony as his ultimate goal.
Facing a terminally terrorist-ridden world, Alec must track down the Spider and prevent his plans from coming to fruition at all costs.
In KHAMSIN authors Marko Perko and Hrayr Shahinian take the reader through the maze of an intricately designed plot and subplots that twist and turn when it is least expected. Their deep understanding of the region and attention to detail enrich the reading experience page after electrifying page.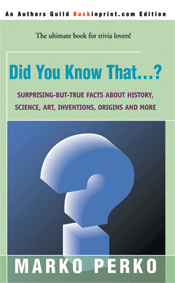 Did You Know That...? is an uncommon compendium of knowledge that will astound, demystify, edify, and debunk. It is a book of ambitious design that is both eminently informative and vastly entertaining. Assiduously researched, it will be an arbiter of disagreements and will stand cherished misconceptions right on their heads. It will also expose factoids, unmask present-day orthodoxy, identify misinformation, clarify the confusing, and present new information. Did You Know That...? is all you need to know...for knowledge is power!